Marcia Wallace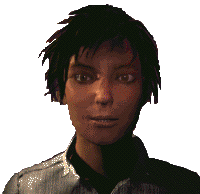 More Bodies Found Near Train Museum
Three more bodies were uncovered during the renovation of the Train Museum by New Horizon Development, these were similar to the others, mostly intact except for some type of scratch or bite marks to the face and removal of the eyes. The length of time of the bodies al seem to range from recently to months or years ago.
BCPD officials believe this is due to an unchecked population of Devil Rats, however the localized damage and selective choice of a meal doesn't fit the profile of a scavenger. Though Devil Rats are highly aggressive they are also extremely voracious, possessing a high metabolism requiring them to eat at least twice their body mass in a day.
BCPD has dismissed earlier speculation that this was cult related or an new organ legging gang, even though released evidence doesn't rule out a human killer(s). This is the 14th, 15th and 16th body found in the past two years, there is no telling how many more victims could be out there.
Nerps..For Maintaining Molecular Cohesion
Nerps..For Bed Sores
Nerps..For Sexy Japanese Fashion Models
Nerps..For Troll Linebackers
Nerps..Not Just For Breakfast Anymore
Annual EPA Reports Don't Look Promising
The EPA located in Locust Point, has just released a preliminary report to the UCC and the Mayor on the pollution of the Chesapeake Bay and effects of Maritime Shipping and Shore Based Manufacturing. This report comes shortly after eyewitnesses reported seeing a large unnatural creature the locals have named "Monty the Sea Monster".

The reports should confirm the hypothesis that the increased levels of various elemnts in the bay could have worst effects than destroying the eco-system. Zeta-Imp Chem is notorious for pollution in over 15 countries, after a toxic spill off the coast of Yucatan, local fisherman reported a strange type of fish they began catching. It caused unexplained symptoms causing the worldwide ban on most Yucatan seafood last year.

There have been numerous eyewitness reports of this local creature, yet noone has furnished any physical evidence. Coast Guard and Navy Vessels have swept the bay with sonar, thermographic and ultrasound sensors without detcting anything matching the description.

Parazoologists believe it to be a hoax, a clever marketing scam, T-Shirts, Games and even a Children's Show is all being based on this creature. Whether or not the creature is real, Baltimore believes.